Goulds 3393 High Pressure Pump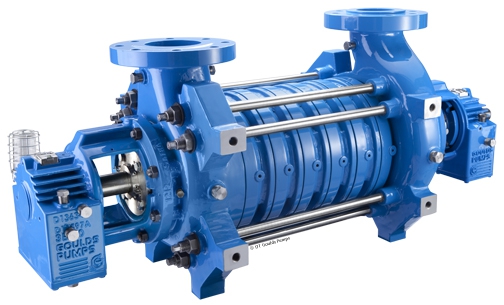 Goulds 3355 High Pressure Pump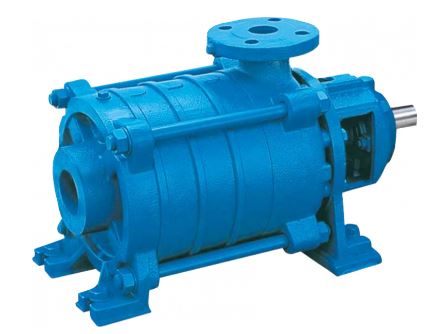 The Goulds Model 3393 is a radially split, segmented casing, multistage pump designed with modular interstage components. These identical components can be assembled to produce pumps of varying numbers of stages, hydraulics, materials, and configurations to meet the customer's specific requirements. Its multiple suction nozzle and discharge nozzle orientations allow the 3393 to adapt to multiple piping installations and provide the piping designer with flexibility in plant layout. Multiple hydraulics for each pump size optimize efficiency across a vast range of applications. All intermediate stage components are identical which reduces spare parts inventory. These pumps are particularly well suited for reverse osmosis and boiler feed applications. Shower services, booster service and other high pressure services are applications where the Model 3393 may be applied.
Specifications
Capacities to 3300 GPM (750 m3/hr)
Heads to 3300 feet (1000 m)
Temperatures to 400° F (204°C)
Pressures to 1650 psig (114 bar)
Goulds Model 3355 is a multistage ring section pump designed for high-pressure services including: boiler feed, reverse osmosis, shower service, pressure boosting, plus much more. Its modular design and multiple configurations make it ideal for your system.
Specifications
Capacities to 1500 GPM (340 m3/h)
Heads to 1640 feet (500 m)
Temperatures to 280°F (140°C)
Pressures to 800 psig (55 bar)
Applications
Reverse osmosis
Boiler feed
Shower
Spray
Cogeneration
Pressure boosting
High pressure cleaning
Snow making
Condensate
Mine dewatering
Applications
Boiler Feed
Condensate Return
Deaeration
Reverse Osmosis
Shower / Spray Service
Mine De-watering
Cleaning Systems
Seal Water Booster
Product Transfer
Reactor Feed
Pressure Boosting